Fishing Reports
  This is the most popular page of our site, it is a Fishing Reports page with the conditions we found, the fishing we had, and includes a summary of the action plus any photographs we take on the trip. Perhaps the most popular page on our site with tons of clicks daily it is a resource and a place to feature the most important part of our business – -you the customer.
*****************************************************************************************************************************************************************
Be sure to check out our You
Tube Channel, you can visit or join our channel by clicking here .   We have a huge collection of various video clips of catching fish, tying flies, and more.  Once on our channel page you can subscribe to our YouTube RSS feed and receive updates whenever we post new clips on our channel. ***************************************************************************************************************************************************************************************
******
Customer Testimonials….
"Jeff, Thanks for a wonderful day that exceeded all our expectations.  We came home so excited, all agreeing that we learned more in the first hour than we had in all our time with other guides.  The netted fish, your easy way of being, and your patience and care were very much appreciated.  Lunch was great too!  Thanks again…..Melissa Malone, Greensboro, NC, Nan Henson , Teresa Hoyt , Atlanta, GA, on a March 31, 2012 NC Trip
Jeff,
Thank you again for 2 super, glorious days of fishing 🎣   You are a true professional guide, in every sense of the word.   You were a gracious, patient, attentive, and most accommodating host. Plus you taught me a lot.
I would highly recommend you and your services to anyone.  All the best, Kevin O'Connor , Charlottesville, VA, on his two day trip at Dunlap Creek private water and day two South Holston float trip May 12- 13, 2017
*******
 Late September through December 2018  FISHING REPORTS
10-20-2018 FISHING REPORT – Guided Trip, William  & Ella Vocke, Greensboro, NC, NC Mtns, Will and his grand daughter Ella joined me for a day of small stream fishing.  We had great water levels, slightly high and just a tinge of color, ideal for slinging nymphs.  It was Ella's first time fly fishing, and I spent most of the day working with her showing her how to cast , manage line, and hook and play fish.  She did great, we fished two waters and caught some good fish up to 18″ on each, a trifecta of browns, rainbows, and brookies.  We caught mostly rainbows, and we fished double nymph rigs all day long.  We probably landed close to 30 fish or so, and Ella caught almost a dozen and a half of those.  So it was a great day of learning for her.  Love teaching new anglers, and great to put on the waders and boots and do some creek stomping……the weather was chilly, read that 'normal' for once,  and its off to full swing as far as fall is concerned.  It took a while but its feeling that way finally.  Fishing has been outstanding, and that will continue.  We had rain early in the day, then it cleared off and got quite breezy with dropping temps.  Rumor has it even a few snow flakes flew Saturday night at higher elevations particularly near the NC/TN line.  Great day again, loving the weather, if you want in on fishing now is the time to book a day, our October is full and November will be soon.  November and December are great times to fish…..but don't take my word, make me prove it.  Lets go fly fishing..!  Here are some pics from our day…..
10-22-2018 FISHING REPORT – Guided Trip, Adam Harber, Kingsport, TN, TN Soho float, Adam and his friend Devin joined me for a float, we put in around 830.  It was cold, low 30sF, heavy fog on the river typical of cold mornings like this due to the differential between the water and air, as the water is in the 50sF.  Pretty crowded for a Monday, we had a good many boats joining us , a testament to how good fishing has been.  We caught fish from the outset on a variety of flies, some of the usual suspects and some new flies.  We fished our way downriver, picking up a fish here and a fish there, we caught a lot of rainbows, a handful of browns, Devin netted the best fish, a brown of about 15 inches.  Didn't keep count but we probably landed three dozen or so.  We got some rising fish toward the end of the float and ended the day with that making it to our takeout at 4pm.  Enjoyed the day a lot, these guys were a blast as always.  Didn't take a ton of pics, had some issues with the phone (wet maybe?).  Busy week so reports might be a little abbreviated as the old man needs his sleep lol.
10-23-2018 FISHING REPORT – Guided Trip, Tim & Stu Moore, Raleigh NC, TN tailwater float, we got a later start and fished later, that proved to be a good move and we caught a lot of fish early nymphing , about 15 or 20, then when we got to some rising fish switched off to dries.  We would end up having excellent dry fly fishing the rest of the day, first with sulphurs, then sulphurs and olives, then black caddis at the end.  We did very well, catching about 25-30 on dries which included several fish in the 16-19inch range and one 20 inch brown landed by Stu.  Tim had a fish on that would have been in the 21-22″ range, an impressive fish on a dry for sure.  The last three hours were magical…..heads and snouts poking out licking up the sulphur and blue wing emergers as they poured off.  For at least two to two and a half hours the dry fly fishing was a good as it can be.  Simply put.  We fished til dusk and ended up at takeout as it was getting dark.  Great day, abbreviated report as have another trip tomorrow….Here are a few pics…
10-24-2018 FISHING REPORT – Guided Trip, Dr Pat Burney, Dr Ken Karb, Greensboro, NC, NC Mtns, the guys wanted to do a local wade trip so that is what we did.  Got a bright and early start, it was cold, high 20s to low 30sF, but it eventually warmed up to 60F and was a nice autumn day.  Was good to be on a small stream after several days this week in the boat.  Nice change of pace for sure.  We had slow fishing to start, water in the 40sF, and we were in the water before 8am.  By 9 were were catching fish pretty regularly, using double nymph rigs , and caught fish on a variety of patterns.  The first stretch we fished we caught one here one there, but the next stretch we fished late morning to midday was great.  Probably landed 30 fish or so by lunch, all rainbows and browns, up to 18 inches.  Pat landed one rainbow of about 21″ , and several nice browns.  We took a quick lunch streamside, and then fished for a few more hours.  Pat landed a couple more rainbows, Ken landed 8 more fish mostly browns.  Good day, and awesome weather, and probably around 4 dozen fish landed.  Fishing has been great, and that will continue.  November is going to be great as this cool trend will remain, and fish have the feedbags on.  Our November is booking up fast as I am currently booking mutiple dates daily and expect it will soon be full.  Here are a few pics…
10-25-2018 FISHING REPORT – Guided Trip, Lynn Roloff, Greensboro, NC, TN tailwaters float, we did the upper South Holston, and planned on starting just before lunch, we had some decent nymph fishing to start, landing a half dozen fish nymphing and then we saw the first few rising fish.  At that point we switched to dry flies and decided to float the entire rest of the day looking for sippers.  Turned out to be a productive move, we fished on grass bank that usually holds a lot of fish and caught probably a dozen or so on dries, sulphurs and blue winged olives, with the bwo winning out on the first spot.  Landed some decent browns, then moved down to the next bank and found more sippers there.  Caught two other browns there, by 1pm we had a ton of bugs coming off, both sulphurs and blue wings, and fish started to rise everywhere.  We anchored up and moved from pod to pod of fish and caught some from each, probably 12 -15 over the next hour, mostly rainbows with a few browns mixed in , and mostly on smaller, very sparse sulphur patterns.  We moved to the next spot and caught a few more, rainbows, then moved on downstream where we got into browns again, landing several good ones and some good rainbows mixed in.  We also hooked up on three fish that we never saw, 18-20″ browns that head dived into the moss once hooked up.  We landed one really nice brown, and one really nice rainbow.  We had rising fish til almost dusk, at which point we moved on to takeout.  It was a good day, and fun to have fished dry flies almost from 11am til dusk.  Not many places you can do that right now.  Here are a few pics….
Some sunrise pics from yesterday….
10-26-2018 through 10-28-2018 FISHING REPORT – will be demonstrating fly tying at Fly Tyer's Weekend Fly Tying Show in the Smokies, Little River Outfitters, Townsend, TN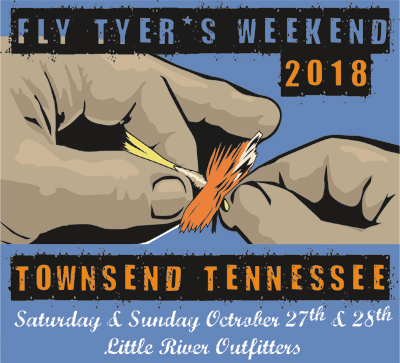 This year's event will be held right here at Little River Outfitters in Townsend. More than 40 of the southeast's best fly tyers will be on hand demonstrating everything from tiny midges to large saltwater patterns. This is going to be our premier event of the year.
Little River Outfitters will once again host of the annual Fly Tyers Weekend to be held October 27 & 28, at our fly shop and fly fishing school in Townsend, Tennessee. This gathering of legendary fly tyers, their exhibits and demonstrations will delight both seasoned and novice tyers. With more than 40 tyers providing instruction, the LRO Fly Tyers Weekend is one of the largest gatherings of tyers in the Eastern United States… and its FREE.
Come learn how to tie freshwater and saltwater flies alike. These experts will share their experiences as well as tips on how and where to get the best results from fishing their flies. Demonstrations will be held both days from 9 a.m. to 5 p.m. Food will be available for purchase on site, provided by the local group of Casting For Recovery members.
While the main events are held under canopy outdoors, there will be the option to browse LRO's more than 7,000 square feet of indoor retail space and see their abundant selection of tying materials, fly rods, reels, lines and accessories. Their knowledgeable staff will be on hand to answer any questions about equipment and/or fly fishing tactics.
Little River Outfitters is located near the entrance of Great Smoky Mountains National Park, which offers an ideal setting for this anglers' event. Freestone trout streams, tailwaters warmwater lowland rivers and even lake fishing abound here and October is an excellent month to fish them. Early lodging reservations are suggested for this busy time of the year.
You do not have to be a fly tyer to enjoy this event. The people who are demonstrating are seasoned anglers, with a diverse background, fly fishing their home waters for trout, warwater species and saltwater fish. You may ask them about their fly fishing experiences, and learn more about our sport.
For more info click here and a list of the over 40 fly tyers who will be demonstrating tying and times they are scheduled for.  I am  scheduled 9am-1pm both days and will be tying an assortment of my favorite tailwater patterns, terrestrials, and streamers.
10-29-2018 FISHING REPORT – great several days in the Smokies, 800 miles traveled roughly, tons of flies tied, great fly tying show at Little River Outfitters, a fantastic turnout for the show.  Saw a ton of old friends and made some new ones.  Demonstrated some trout patterns and also articulated streamers we throw for big trout, bass, and other species.  The streamers were a real hit, had a lot of people sit in on my fly tying demos.  Over 2 days there were 40 of the best fly tyers in the Southeast tying in 4 hour sessions everyday, tying everything from trout to bass to saltwater.  Managed a small amount of fishing, went up into the park and visited some old stomping spots and caught a few natives……fish that are totally wild and many of which (brookies) have been there since the beginning of time.  We had nasty weather, chilly and rainy , which is great for fly tying (even better for slinging the streamers I was tying).  Here are a few  pics….
10-30-2018 FISHING REPORT – Guided Trip, Jay & Clarence Kyne, Raleigh, NC, TN Tailwaters float, met Jay and Clarence late morning, we decided to nymph and streamer fish first then try to take advantage of the good dry fly fishing that has been available the past month.  Jay is pretty experienced, his brother Clarence got into the sport and is learning and it was a great day for both.  We caught a ton of fish nymphing to start, probably a couple dozen, then we moved downriver looking for sippers.  With the constant steady high flow a lot of fish are on the banks, and will take a dry presented inches to a foot off the edge.  We caught a bunch of fish early like that, long before any hatch started, probably taking our flies for the voluminous numbers of bwo spinners that are common in the early morning to midday hours.  We caught probably a dozen moving down to where we took a quick lunch break in the boat.  I mentioned to the guys , once the fish get going, you won't want to stop to eat lunch then.  So we pulled over, anchored, had lunch in the boat, and with each bite of food more fish began to rise until within a fifteen minutes, exactly as I expected, fish were steadily rising everywhere.  From that point on it was game on.  Clarence had his first taste of dry fly fishing to rising fish, and he hammered them.  Great way to be introduced to this.  Jay did well too, and there were several times we had doubles on , both guys playing a fish at the same time.  I moved from pod to pod of risers and we caught fish from each.  At times there were 50 to 60 fish rising within 75 feet of the boat.  It was like that last three hours of the day.  We moved down to where I have been catching some nice fish on dries late in the day and it was as it has been almost every trip lately.  Lots of risers.  Lots of fish, again several double hook ups.  We caught fish up to 18″ on dries.  Another excellent day of dry fly fishing.  We fished til it was barely light enough to see to run the rapids before takeout, and pulled into the ramp at dusk/o'dark thirty.  60 fish day, and it will be like this for some time.  We were on the South Holston, and there are two spawning sections that close from Nov 1 til Feb 28, but there's plenty of this fishing to be had outside of those areas.  Let me repeat, it is not most or even a lot of closed areas, its a very small part of the overall whole.  I'll be saying that alot because sometimes folks assume some closed sections equals no fishing to be had.  Where we caught most of our fish was NOT in the closed water.  What does that mean?  It means you can still get in on some of it.  Here are a few pics from the day….
10-31-2018 FISHING REPORT – Guided Trip, Rick Parish, Winston-Salem, NC, TN Tailwaters float, met Rick where he and his wife were staying on the river and picked him up late morning.  We loaded up and headed upstream to float the upper South Holston and get in on some great dry fly fishing again.  We nymph fished for a couple hours to start, and caught about 25 fish, several rainbows and one 21-21.5″ brown, and had two other large browns on for a bit that came off.  One fish was a 20-22″ bright yellow butter bellied fish, the other a 20″ plus behemoth that was on but we never saw.  The nymph fishing was great to put it simply.  A little after noon, we moved downriver and looked for bank sippers and found quite a few.  I anchored up, rigged Rick up with a double dry and he caught about 15 more fish on dries at our first stop, a mix of rainbows and browns up to 13″, almost all of them on the bwo cdc spinner.  We moved our way downriver and went back to the bounce nymph rig and caught several more fish, mostly rainbows, and at one point had a small rainbow hooked up on the nymph rig and a brown that looked to be over 30″ long grab the rainbow in his mouth like a dog with a bone and swim with it beside the boat .  We were both startled by it, the fish had to be double digits, one of those hook jawed orange as a pumpkin behemoths that love to eat small rainbows.  The fish held on for 10-12 seconds drifting with the boat, then bolted upstream with the fish and the fish came out of his mouth and Rick finished playing a beaten up rainbow to the boat.  I netted the rainbow and released it.  I am sure both of us had a startled look on our faces.  We continued nymphing downriver and picked up 8-10 more fish, including several nice browns.  We had put 45-50 fish in the boat in 3 hours.  We pulled off to the side, and I , just like yesterday suggested we have lunch before the bulk of the dry fly fishing would start.  We did just that, and on cue the fish started rising just as I expected.  Over the next four hours we'd pick out a fish, cast to it, hook up, play the fish, and release.  Repeat.  Repeat . Repeat.  We caught a bunch of nice rainbows and browns, and over the rest of the afternoon all the way til dusk we put another 40 or so in the boat.  We ended up streamer fishing a short stint before pulling to takeout at dusk.  Great day, the leaves were in full color, fish eating like crazy, rising like crazy, and Rick spending his 60th birthday putting between 80 and 90 fish in the boat.  Incredible.  And its not over.  Still plenty of days with fishing like this ahead, and on dry flies if you want.  But now is the time to get in on it……We were on the South Holston, and there are two spawning sections that close from Nov 1 til Feb 28, but there's plenty of this fishing to be had outside of those areas.  Let me repeat, it is not most or even a lot of closed areas, its a very small part of the overall whole.  I'll be saying that alot because sometimes folks assume some closed sections equals no fishing to be had.  Where we caught most of our fish was NOT in the closed water.  What does that mean?  It means you can still get in on some of it.  Here are a few pics from the day….
11-2-2018 FISHING REPORT – Guided Trip, David Carter, Greensboro, NC, NC Mtns, met up with David early, o dark thirty, and we were on the water early.  We didn't let the threat of rain dampen our trip, as I have quit postponing a lot of trips due to rain or chance of rain and we will be doing that as a part of our cancellation policy going forward.  Our new policy is we only cancel if there its unsafe to fish (flooding/muddy conditions) or unsafe getting traveling to where we are fishing.    Today we harvested the fruits of that decision.  We had rain early, great nymph fishing, rather, excellent /epic nymph fishing.  The water was a bit high, a slight bit of color, and the usual leaves in the drift as is normal in the fall after a rain.  We started out on a stretch that usually offers good fishing this time of the season, and it didn't disappoint.  We caught a bunch of fish in the first stretch we fished, all on some new dirt snake patterns/new colors and some new nymphs.   All of them caught fish, a couple worked exceptionally well as they were employed on both a standard double nymph rig with a dropper and a bounce/swivel rig that I use on high water when a lot of weight is required.  We moved to another stretch and hooked up on several more fish, a couple of which were 20 inch plus rainbows.  Also managed the trifecta of browns, rainbows and a couple brookies as well.  We caught several doubles as well.  We fished a couple of other spots too, in a light to moderate but continuous rain, and caught a lot of fish, again a mix of rainbows, browns, and brookies with one of the browns being a 20″ fish.  We took a break for lunch, then headed to a lower section of the river to hit up a few spots I knew could give up a few nice fish.  They did just that, we managed three more large rainbows 20-24″ and lots of fish between 11″ and 14″.  David decided around 430pm we had had a great day and it was time to call it a day.  By then the moderate rain turned to heavy stuff briefly and then quit when we quit.  The river was up slightly and a little off color but we continued to catch fish all the way til the end.  Somewhere between 50 and 60 fish landed, all in the rain, and a great reason to go fishing in the rain.  Fish eat, or rather BIG FISH eat in the rain!  Here are a few pics  of our day…..with some of the better fish first…..click each thumbnail below those to enlarge them…
11-3-2018 FISHING REPORT – had a last minute trip cancellation so I decided to head out to test out some new gear and flies.   Tested an ECHO fiberglass 7'10  5 weight 3 piece rod that I got from the guide dept program at ECHO and it was great.  Put it through the paces, trying it with a variety of rigs, and bending it on probably two dozen fish in 5 hours of fishing, including a couple of huge rainbows.  Also was testing the new VEIL camo SIMMS stockingfoot wader and was very impressed both with how it looked and the comfort of it.  Always pleases me to slide some new SIMMS waders on and these were no different.  Improved neoprene feet, pocket configurations, suspenders/straps were all fantastic, and a big thanks to the folks at the SIMMS guide desk who keep us in great stuff all season long.  Tried out the new GUIDE boots as well and they are fantastic as well, with a lot of improvements including a roomier feel that is incredibly comfortable, a large toe box giving your toes lots of wiggle room (important for cold days when the feet might get a little chilly— being able to move your toes is important).  Also tried out a lot of new flies Ive been cooking up over the past year, had some great results with them.  Lots of fish going down in the coming months on them.  We had some rain, and today water was up a bit…..and it was cold and breezy in the high country, and lots of leaves coming down.  Again, normal stuff.  Colors are stunning in the high country at mid elevations right now (3000-4000ft)….Here are few pics…..
Great fishing weather for Sunday and Monday, Tuesday looks like a bit of rain, then a mildup coming for Wednesday and Thursday.  Leaves are late this year so still lots of color in that regard, and its not too late to head up to the hills for a few hours to take it all in.  From Mt Airy all the way down the spine of the mtns and in between generally those areas between 1500 and 3300 feet are at peak with lots of color.  Wilkes and Caldwell counties have some great color if you should venture up highways 16, 18, or 221 toward Jefferson.  Also a lot of color up 181 out of Morganton up the Wilson Creek /Table rock area.  Spectacular color.  It was about 2 week late this year, as predicted, mostly due to mild temps and lots of rainfall.  Interestingly though, the change in light angle with the sun is what does the color change, it isn't cold weather.  Changing light conditions prompts trees to stop producing chlorophyll which is why leaves turn.
For those weather buffs out there (me included), it looks like a great winter season forecast for fishing.  Slightly above average snow is being predicted.  That is good for fishing, and good for the water table ensuring great flows for spring.  Bring it on!  We love fishing snow, we do it a lot, and some of our best fishing is in these conditions.  Folks always remark about some of my photo pages how many times folks are holding a huge fish, have gloves, heavy jackets, and toboggans on…..there is a reason all those things go together.  If you don't fish in winter you are missing out.  I'll leave it at that.  Those who have gone or who go KNOW!
Here is the annual snow report from Rays Weather, complete with predictions as well as an in depth meteorological analysis….. Rays is generally the most accurate of anyone, as you'd expect from LOCAL folks.  Interesting Rays last year was within 3″ of the exact seasonal snowfall totals overall for the mountains.  Not the Weather Channel, NOAA, local weather stations, anyone, to my knowledge, has matched that.  Enough of that, click here or the link below for the snow report 2018-2019.
11-5-2018 FISHING REPORT – great fishing all over the high country, time to take advantage of it.  Its "prime time' so to speak.  We got some rain last night but the impact was minimal and flows are great in most places.   Banner Elk and Beech Mtn saw snow flakes if you can believe it, some saw some accumulation on Beech.   For those fishing the tailwaters we'll be seeing some lower flows on the Watauga, and variable flows on the South Holston with TVA doing some unit testing as the new generator, which has been replaced and installed over the past year, is about ready to be up and running.  November and December are two great fishing months, time to plan now to get out and enjoy it.  With plenty of water to work with, I am thinking it might be the best fall and winter seasons in quite some time.
11-6-2018 FISHING REPORT – Guided Trip, John Keller Group, 3 Anglers, Stokesdale, NC, ppd high winds and severe weather(tornado watch)/heavy rain, rescheduling
11-7-2018 FISHING REPORT – Guided Trip, Paul Wagner, Madison, NC, VA Mtns, we started bright and early, determined not to let rain or high, dingy water stop us from making a day of it.  Do fish (big fish) still eat in dirty water?  Just ask Paul.  River was flowing at 308 cfs, and the water was off color, and the first spot we fished yielded several large rainbows up to 20-21″, an 18″ tiger trout, a 14″ palomino or golden, and a fall fish.  We fished double nymph rigs to start, and did well on a variety of Y2Ks, rubberleg BH GRHEs, RL Copper princes, Rojo midges, etc, we caught fish on a variety of patterns.  As we moved upriver, we hit several more spots, each producing several nice rainbows.  In addition we had a number of fish on briefly that shook loose or came unbuttoned.  We had cloudy skies most of the day, and some hit or miss showers, and fished til probably 1:30 and had a quick shore lunch.  After lunch we moved to a deeper, faster canyon like stretch and picked up where we left off.  In the next few hours we landed another 12 to 14 fish, all of them large, all rainbows, up to 22″.  Same nymph rigs but we did as I often do, that is switch to a couple of larger patterns as we started to get some of those long afternoon shadows on the water.  It worked great, several of our largest fish of the day came to net.  We also had one very large brown hook up, and then jump three feet out of the water and upstream and come loose.  I hated to see that , but it was a great fish, one of the largest of our day.  Great day of fishing though, and provides solid proof that not canceling due to less than perfect conditions is a great idea.  We put in the time and work and were rewarded with almost two dozen large fish .  Great day… almost all our fish were 19-22″ hogs like the one below…..here are a few pics…..