Fishing Reports
 This is the most popular page of our site, it is a Fishing Reports page with the conditions we found, the fishing we had, and includes a summary of the action plus any photographs we take on the trip. Perhaps the most popular page on our site with tons of clicks daily it is a resource and a place to feature the most important part of our business – -you the customer.
*****************************************************************************************************************************************************************
Be sure to check out our You
Tube Channel, you can visit or join our channel by clicking here .   We have a huge collection of various video clips of catching fish, tying flies, and more.  Once on our channel page you can subscribe to our YouTube RSS feed and receive updates whenever we post new clips on our channel. ***************************************************************************************************************************************************************************************
******
Customer Testimonials….
"Jeff, Thanks for a wonderful day that exceeded all our expectations.  We came home so excited, all agreeing that we learned more in the first hour than we had in all our time with other guides.  The netted fish, your easy way of being, and your patience and care were very much appreciated.  Lunch was great too!  Thanks again…..Melissa Malone, Greensboro, NC, Nan Henson , Teresa Hoyt , Atlanta, GA, on a March 31, 2012 NC Trip
Jeff,
Thank you again for 2 super, glorious days of fishing 🎣   You are a true professional guide, in every sense of the word.   You were a gracious, patient, attentive, and most accommodating host. Plus you taught me a lot.
I would highly recommend you and your services to anyone.  All the best, Kevin O'Connor , Charlottesville, VA, on his two day trip at Dunlap Creek private water and day two South Holston float trip May 12- 13, 2017
*******
  Sept/Oct 2017  FISHING REPORTS
Here are a few cool SIMMS videos to check out….
9-29-2017 FISHING REPORT – Guided Trip, Rock and John Morphis, Nashville, TN, tailwater float and wade trip, we did a half day float on the South Holston and caught some fish early on nymph rigs as we have a lot lately, it was pretty decent, and we fished our way through the upper river.  The best fishing was the second half of the float for sure where the guys nailed a number of quality browns up to 18″.  We also missed a bunch….We made to take out around 145pm and headed to a wade spot.  Had lunch briefly before we got into the water and did some wade fishing.  We found lots of rising fish and caught several fish on dries, and a few on a dropper nymph also.  Excellent fishing for last two hours we were out there, Rock and John called it a day around 4pm and we headed out as they were headed to Knoxville for the TN /Georgia game.  Here are a few pics….
9-30-2017 FISHING REPORT – unavailable
10-2-2017 FISHING REPORT – Guided Trip, Anthony & Robin Hipps, Lexington, NC, trip postponed, rescheduling to later date
Note:  Delayed Harvest waters to be stocked starting today, and going all week long until all DH streams are stocked
10-3-2017 FISHING REPORT – unavailable…….Have gotten a few questions over the past few months…lots of days like this (Unavailable…) lately and for another month or so.  Had several customers ask so I felt an explanation is appropriate.  Its taken a while as I am working on settling my parents' estate.  Both  passed away , my mom more recently, and I have been working through going through everything as well as me doing weekly lawn/yard maintenance and some necessary repairs to home getting it ready to put on the market.  As a result, I have spent a ton of time out of town over there and since I have no siblings I've done a lot of it alone. So its taken some time, a lot of 18-20 hour days at times and should be finished soon.  Still, somehow we've managed to have a busy guide season and I've also done a ton of trips.  Thanks for your patience!
Here are a couple of videos for you….one is a brown trout release, one a brown trout catch in NC waters, and one a clip of dry fly fishing on the tailwaters
10-4-2017 FISHING REPORT – Guided Trip, Shaun Redgate, Forest, VA, TN tailwaters, Shaun and I did two floats, we spent the morning nymphing and caught a few fish on double nymph rigs , then as we moved downriver we got into a blue winged olive hatch and ended up catching maybe 20 fish on the first run, many of them rising fish that were rising.  We then had lunch and did the second float and had some epic dry fly fishing, a good sulphur hatch and then spinners after that.  Maybe 25 to 30 fish including some nice browns in the mix.  Other than 2 rainbows we caught nymphing at the beginning of the second float, it was all dries all the way to take out….which we did at dusk.  Great day, awesome dry fly fishing continues….
10-5-2017 FISHING REPORT – Guided Trip, Shaun Redgate, Forest, VA , TN tailwaters, Shaun and I met up again in Johnson City and made the short drive to the river.  We did two floats again as well, and today was a dry or die day.  That is, there had been so many rising fish the past few days we committed to dry flies and targeted risers as we worked downriver, and we did it on both floats.  First trip we got into some midge sippers and nailed a good many of those fish on small dries.  We then moved downriver to an area I have been encountering a developing blue winged olive hatch…..something that normally happens this time of year.  Have some blue winged olives or miss out….pretty much sums it up.  We caught a bunch of fish on a double dry rig, some fish ate the larger fly but most ate the olive.  After a good many nice rainbows and browns we moved down to our takeout and then headed off for our second float.  We had lunch in a shady spot near the put in ramp, then put on fresh dry flies, my Sulphur BS flies ("Biot Skinny"…not what you usually think that might mean….!).  We had great fishing right from the start.  We had already had a great day before our second float, but the dry fly fishing from here til dark was insanely good……any way I can state it won't adequately describe it that way it was.  It was epic.  An absolute ton of fish, some nice browns up to the 17" or better range.  We fished the sulphur hatch and risers all the way to takeout, never fishing where there weren't a lot of rising fish.  Or said a different way, we fished the whole time to rising fish.  All the time.  Also encountered several spinner falls as we made it to takeout….another norm for this time of year.  When we return to the lows in the 40s at night and highs in 70 to 80F range, like we have lately, the spinner falls during the last hour of the day return and you get that last two hours of the day fishing that is epic.  Today was like that.  We fished all the way to dusk and caught fish the whole time, making through some rapids to the takeout just in time to avoid complete darkness.  Epic day, I have no idea how many fish we put in the boat today….but it was a ton.  Here are a few pics….
10-6-2017 FISHING REPORT – unavailable
10-7-2017 FISHING REPORT – Guided Trip, Mike McKee, Chapel Hill, NC, Jim Beeson , Mike Woods, Greensboro, NC NC Mtns, met the guys very early and we were on the river shortly after sunup.  That would prove to be a wise move with it being a nice weather Saturday and with some inclement weather coming for the afternoon.  We did an NC wade fishing trip where I knew we'd do well and would not face low water found in a lot of our local NC waters right now.  We rigged up with one of my favorite nymph rigs and caught fish immediately.  It was from the first cast on…..Mike Woods landed several nice fish from the run I put him in, all rainbows.  I walked below with Mike McKee to another run and it was game on there too, fish from the first cast and one 22″ rainbow that was the jewel of the first few spots we fished.  Jim went up above us to a run I directed him to and it was game on for him too.  We caught a ton, enough so I think I lost count.  I have no idea how many total we caught but it was a bunch, and in about as ideal conditions as you could have asked for.  Cool, cloudy, misty….water was in great shape too.  We did really well, where I was with Mike M. he landed probably 30 fish in the first spot.  All rainbows.  We caught a ton of rainbows up to 22″.  I made it up to Jim and rigged him with several rigs and we caught fish on everything.  About as good as it gets, but I must say, if you know how to rig, how to use weight effectively, and how to read water well it should be easy to do.  And it was.  Jim caught a bunch in the spot he was fished and we had a shot at a very large >25inch brown, and got him to eat, but couldn't hookup.  After that, he would not hit again.   There were a few other folks on the water too, so getting there early was a great move….as I knew it would be.  About noon we took a quick lunch break streamside and then headed to another spot and found some good fishing there as well.  Jim scored several nice fish, and Mike Woods and I walked to a deep bank I knew would hold some nice fish and he put probably 20 or so in the net including a fish near 20″.  All rainbows…..Mike McKee caught up to us, I changed his rig, and he nailed one more before we called it a day about 330pm so the guys could get back home at a decent time.  Great day with some great guys I've done a lot of trips with.  It was a blast, and the fishing was about as good as we could have asked for.  Big rains coming, which we narrowly missed.  Here are a few pics….
10-9-2017 FISHING REPORT – Guided Trip, Seth Thompson, Mebane, NC, NC Mtns, postponed due to heavy rain/flooding.  2 to 5 inch rain totals area wide and nothing on NC side fishable.  Will be rescheduling.
We needed rain badly so not complaining.  Kind of nice I guess to get a day off, as I got up a little under the weather today
Just posted some killer deals on our Sale /Closeout Page click here or the pic below to view…..Some ABEL rod cases, William & Joseph items, and more.
10-10 through 10-12-2017 FISHING REPORT – Guided Trip, Dr Pat Burney, Greensboro, NC, JD Burney, SC, TN tailwaters Watauga and South Holston, arrived to thunderstorms and super sticky weather….feels pretty weird for mid October.  Looks like wet for a few days then back to fall weather and cooler , drier air early next week.  Arrived here 10/10 and we fished  both rivers 10/11, a half day on the Watauga and then a half day on the South Holston.  We waded and floated , had some good fishing in the morning with midges and little stuff, landing a lot of browns (30) up to 18″ on the Watauga…all browns.  We fished til midday, took a lunch break , then headed to the South Holston for the afternoon.  Nymph fished a few fish to start, then got into a few risers and caught a few on dry flies.  Got into some spinner action late in the float and caught a decent number of fish toward the end of the float too.  Good day, long day, we took out at dark…..and got in really late, thus the abbreviated report.  Here are some pics.
We fished day two in some NC water nearby the NC /TN line and it was challenging fishing.  Water still high in a lot of places….not everywhere, but in a lot of places yes.  Water was a little stained still, and the leaves were coming down.  We caught a decent number of fish, and worked hard for every one of them.  Caught about a dozen rainbows and one brown, the best fish being a 22″ rainbow landed by Pat.  Long day, got in late again, and another abbreviated report.  Here are a few pics….
10-13-2017 FISHING REPORT – Guided Trip, Nick and Kent Woodward, Trinity, NC, NC Mtns, met the guys bright and early and we headed off, some rain to start, cloudy, cool, 50s and 60sF which was a stark change from recent days.  We had decent fishing where we fished first, landing several nice rainbows up to 16″.  We fished two waters, we nymph fished all day.  Second river I took the guys too they did really well, landing all rainbows again and fish up to 22/23″.  Water was in great shape, the rains have helped a great deal and as soon as the leaf drop finishes and we get some chilly weather things will be over the top.  Great day though, an abbreviated report as in late again …here are a few pics…
10-14-2017 FISHING REPORT – Guided Trip, Adam & Jonah Norris, Lewisville, NC, TN South Holston,  met Adam and his 11yr old son Jonah early and got a great day in the way of conditions, cloudy, cooler, then some late afternoon sun, overall a banner day weather wise.  Quite a few more folks on the river though, but its a Saturday, that is usually going to be the case.  Anyway we started off fishing dry/dropper rigs , then a nymph rig, then dries and they all worked like a charm.  Jonah did very well, landing about 20 fish before we took a break at lunch around 145pm.  Adam caught fish with us too on a dry/dropper rig w/zebra dropper.  Then I switched to a dry on Adam's rod and he started nailing fish right and left.  We broke for lunch when Jonah landed a very nice brown.  Had lunch, checked out some other spots on the river to fish but folks everywhere so we headed back to where we were.  Went to a different spot and picked up where we left off.  We ended up switching to dries and Adam smoked 'em pretty good, nailing many quality browns to 16″.  All fishing to risers, all dry flies……good as it gets.  I worked with Jonah some more and he managed several fish on a nymph rig, including a 24-25″ kyped up buttery male brown that he fought successfully and played well on 6X for about 5 minutes… and that I came a half inch to getting the net to before it made one last burst before coming off.  We were both sick.  Quite a feat to land a fish like that on 6x……for anyone…..no matter the skill level.  We managed several other fish before switching to dries and nailing about 5 to 10 more.  Great day, a pile of fish caught, probably in the 50 range.  Great day, here are some pics…..
10-16-2017 FISHING REPORT – Guided Trip, Adam Harber, Devin Barrett, Kingsport, TN, South Holston , met up with Devin and Adam in Bluff City and we wade fished the lower river to start.  Big weather change, from lows in the hi 60sF and highs in mid 80s to low 40s and highs in upper 50sF.  Wind, leaves….add that to it and you have a fall cold front day.  We started out with dry /dropper rigs with double nymphs on the bottom and Adam scored a good number of fish where we started, a few of which were nice browns, Devin caught a couple of well, the best fish a brown.  We then moved downriver to another spot and caught a few more, all browns, and then to a third spot where Adam caught one more brown and Devin one more rainbow.  Fishing was slower than it has been but not sure the weather did that as fish were still feeding here and there.  Devin nailed the last fish there on a dry, a nice rainbow.  We went up around 1pm and had lunch streamside, and were planning on floating the upper river and throwing streamers but TVA changed the projected releases and turned on a couple of hours late.  We fished the 340 sluice in the morning and were expecting an 1800 release, which they showed for days on the schedule, but they changed it last minute.  1800 would have been a great streamer flow……So instead we went upriver and found some rising fish, probably nailing a dozen or more on dries, and 6 or 8 more on nymphs before the 1140 release reached us.  It was so late in the day when they changed the schedule it really made little sense to try floating at all as the guys needed to head out by 630pm.  So we made the best of it, catching those fish on dries up river and then heading down to the lower most part of the river and did some nymph fishing. Hooked up a few on double nymph rig to start that came unbuttoned, then went downriver to hit one more spot, an area of deep ledges that holds a good many fish and often large ones.  Adam got a large rainbow, a fish in the 17″ to 19″ range, a big rainbow for the South Holston.  Don't get many that big on the Soho.  It was one of the prettiest bows in a while.  Devin and I found a couple rising fish, got one to eat…..that was a biggie, that broke off on the hookset.  Appeared to be another large rainbow like Adam's.  On that we called it a day…..the guys were great and great to spend it with them.  Here are a few pics…
10-17-2017 FISHING REPORT – Escatawba Farms group trip….open/have 2 open slots if anyone is interested…. Offering a special rate of $200 per slot…..will be last time we'll be offering this due to an increase in rod fee prices.   Learn more or Purchase one of these slots for this trip here .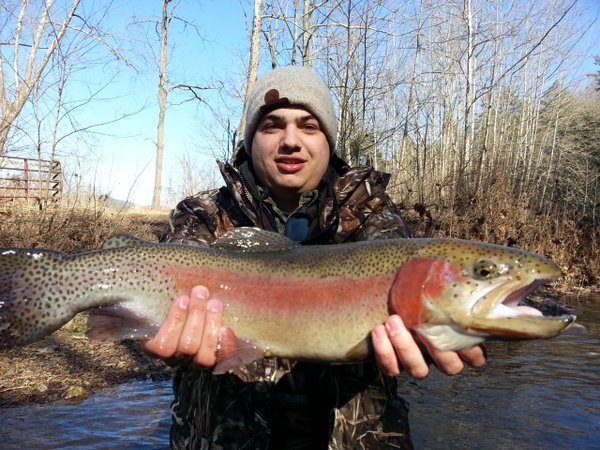 10-17-2017 FISHING REPORT – Escatawba Farms trip, had two signups but only one person made it……I had fished on Sat with Adam and Jonah Norris, and I'd done several trips with them over the past few years as well as a few with Adams Dad.  Well, Mr. Norris and I had a blast yesterday and got to sight fish all day to nice fish putting about 15-18  big rainbows in the net, one large brook trout, and one nice Tiger trout (rare), the last of which is a cross between a female brown and a male brookie.  They are common where they share spawning areas, and of course some are hatchery reared as well.  The flow was 21 cfs, which personally love for sight fishing with long leaders, tiny flies, and light tippet.  Its like hunting with a fly rod…..and probably my favorite type of fishing.  The three other anglers that were on the water had a hard time, and didn't catch many fish….if they'd only used stuff like we did which is something I always tell folks when you encounter low , clear water.  You just can't fish for them like you do when the river is flowing at 200 or 300 cfs.  Those tactics won't work.  Walk, stalk, look, spot the fish, rig appropriately for that spot, make a presentation…..and limit your casting….those are things you must do.  We had no trouble catching fish….when we did those things.  Great day, awesome weather too….chilly in the 30sF to start and high near 60F…about as perfect a fall day as you can ask for.  Fall is here !  Got in really late but here are some pics….
10-18-2017 FISHING REPORT – unavailable
10-19-2017 FISHING REPORT – Guided Trip, John Keller Group, Stokesdale, NC, NC Mtns, did a trip with Ruth Ann, John, and his dad and we did a two rivers trip, we fished the Catawba first and had some good nymph fishing, catching a mix of browns and rainbows, probably 25 or so.  The weather was glorious, like "Wyoming weather" to me…..chilly/frosty in the morning and highs in the upper 60s to low 70s with low humidity.  Great stuff.  We caught fish on a variety of flies, but did best with a large fly on point and small fly on bottom rig.  Larger stones working well, which is normal as they start migrating when leaves come down.  They eat the bugs that shred the leaf material (caddis,mayflies, etc.) and you can find stones in mid stream leaf clumps in medium to fast speed water.  When that happens I like larger stones with a small dropper.  We caught a ton of fish on the stone yesterday, a pattern called a "Bead Head Twenty Incher"……that works well on the Cat fall through spring as the river has great water quality and lots of stones.  We took a lunch break around 145pm, then headed off to fish one more water .  Did pretty well right off , getting back into the water around 245pm and immediately got into some nice rainbows.  John and Ruth Ann took the first run we came too and landed almost 10 from that spot.  I walked downriver with John's dad and we got into some nice rainbows too, landing about a half dozen and having at least that many more on that came off.  We fished one more spot before calling it a day.  Great day and great time with great folks…here are a few pics…
10-20-2017 FISHING REPORT – Unavailable
10-21-2017 FISHING REPORT – Guided Trip, Sandeep Mazumder Group 6 Anglers, Winston-Salem, NC, NC Mtns, and Sandeep and friends Rick, Al, Andy, Kim, and Dan joined me for a group trip on Saturday.  We had unbelievable weather, and good fishing.  It was in the 30sF when we arrived at sunrise but quickly warmed up nicely.  It didn't take us long to get into fish, and then a lot of fish.  We fished double nymph rigs and had a great day, overall putting about 40 to 50 fish in the net.  Not a bad day considering only two of the guys had ever fly fished, and only one had fly fished more than a few times.  Everyone caught at least a half dozen fish, three of the guys caught double digits.  That is good for anyone, let alone someone totally new to the sport.  I was thrilled.  We fished a couple of different stretches of river, then another water also, and continued to catch fish.  Ended the day with wild rainbows on smaller water.  It was great, great day with a great group of guys.  Leaves are dropping, colors are less noticeable this year….much less color overall.  Not as many leaves in the river as normal, and a lot more will come down in the weather to come.  Here are a few pics of our day…
10-23-2017 FISHING REPORT – Flooding rains in the high country today, and this will spell the end to the dry weather for sure.  This will be great for our local waters.  The Wednesday forecast in the high country is a brief period of snow showers before everything clears out if you can believe it.
Just going through some old files and doing some cleanup and found these from fly fishing Cape Lookout, since right now its the main event as far as saltwater flyfishing is concerned on our central coast in October and November.  As some of my customers know I have fly fished saltwater extensively and have done a lot of it in our local coastal waters, both inshore and big game alike.  These are pics of myself and a friend Chuck Nelson on Cape lookout bight wade fishing for albacore….before it was the cool thing to do.  At that time there were few other anglers doing that, even boats.  I can remember flyfishing with both the Pasfields and the Hatchers on the island for albies on the fly with friend /guide Bill Harris and seeing only one or two other boats….one of which was local angler Buzz Bryson, and the other Tom Earnhardt who happened to have Lefty Kreh on his boat….. they and we were the ONLY boats on the water during prime time of the season and never did we see anyone wade fishing.  We'd do some boat time and some time on the beach catching these great fish.  Quite different from the many boat circus it is today.  In the one photo below that has a lot of boats in it the boats were jigging for speckled and gray trout and Im sure looked at us and thought we were crazy fools….that is until we started hooking up.  That's always a game changer and folks then take you a little more seriously.  Those were the days….Here are a few pics…
\
UPCOMING EVENT
This is probably the largest fly tying event in the Southeast United States. There will be fly tyers, who donate their time and travel expenses, here for you to watch, talk to and learn from. You do not have to be a fly tyer to enjoy and learn from these folks. They are all excellent fly fishermen as well as fly tyers. You are likely to here as many fishing stories as you are to see flies tied.
All you have to do is show up at Little River Outfitters in Townsend. The tyers will be demonstrating between 9 am and 5 pm, both Saturday and Sunday, November 4th and 5th. This event is FREE, all day both days.
We are expecting more than 40 fly tyers. Many tie trout flies. Others tie warmwater flies. There will even be a saltwater fisherman or two demonstrating.  I will be demonstrating both days from 9 am to 1pm , come pay a visit! .For complete info visit LRO website here .
Streamers Inc from scumliner media on Vimeo.
10-24-2017 FISHING REPORT – unavailable
10-25-2017 FISHING REPORT – unavailable
10-26-2017 FISHING REPORT – Guided Trip, Seth Thompson, Mebane, NC, NC Mtns, ppd high water where we were headed….should clear soon, a few places are fishable again, just not where we were going
10-27-2017 FISHING REPORT– Guided Trip, Mac Cheek, David Nierle, Greensboro, NC, TN Tailwaters, met Mac and David mid morning and we floated the upper South Holston 1140 sluice and it was great.  Lots of boats also, but it didn't detract from catching fish, we did well.  Started off nailing some fish on dries, something I expected to get into down river but we found some risers within 100 feet of the ramp.  Got several really nice fish, one of which was an 18-19″ brown Mac nailed on one of my BWO skinnies.  We caught several others there , missed several, then started our way downriver.  Caught some here and there on our nymph rigs, but then got into some risers further down river and started nailing fish pretty regulary again with a bunch of quality browns and rainbows in the 13 to 16″ range.  Missed a bunch too, broke off several, had several come off as well.  But we continued the same down river, anchor up, dust the flies, cast and cover a fish, got em.  It was like that all the way to take out.  I didn't keep a count of fish caught , but in the 30 to 40 range seems likely.  And 98% of them on dries.  We had warm, sunny, no wind conditions.  Temp was 72F about as perfect a day as you can ask for if you are outside.  And the fishing didn't disappoint.  Great to spend it with Dave and Mac, here are some pics….
10-28-2017 FISHING REPORT – Guided Trip, Tony & Joseph Pugh, Asheboro, NC, TN Tailwaters, we opted to wade instead of floating  and to get out really early, one to beat any other folks to the water and to get in as much time before a near certain heavy rain event arrived.  We arrived and suited up in the dark, walked to the river and entered the river in darkness.  We walked to the spot we were fishing as the sun was coming up.  The fishing was a little slow to start, except for the best fish of the day a 20-21″ brown that Joseph caught on a nymph rig on a Zebra skinny.  We caught maybe 15 or so on nymphs the first spot we fished , then headed to a stretch where the midday nymphing has been hot and that the bwo hatch, which has been developing for weeks, was going to be great as I thought…especially with clouds and on and off rain.  Turns out it was just like that, Tony and Joseph nailed probably 20 or so more fish on nymphs, quality fish up to 14″, almost all of them on double nymph rigs using a large lead or point fly and a midge pattern or baetis pattern as a dropper.  It killed 'em, Tony was red hot it went from slow to game on as he started nailing one fish after another…and some quality browns.  The fish started to rise, and all the while the rain came and went, came again, then came to stay.  And just as I expected we got really good, no great, epic dry fly fishing.  Outstanding.  The guys for a while caught fish every cast just about, all on my BWO skinnies, literally just as fast as we could play a fish, land it, release it, re dust the fly and present the fly again.  Caught browns up to 15-16″ and a ton of rainbows too.  There were at least 10 times where the guys doubled up, both of them with a fish on at the same time.  It was pretty incredible.  About as good as dry fly fishing gets.  About 445/5pm it started to really rain hard, a downpour, and we called it a day.  What a day too.  I was thinking the guys landed roughly 60 fish but I think it might have been more than that…..but it was a lot.  Great day, in some foul weather at the end….but we were blessed today that the worst of the weather held off.  Here are some pics…
10-30-2017 FISHING REPORT – Guided Trip, Tim Ramsey, NC Mtns, ppd flooding and high water NC waters
10-31-2017  through 11-15-2017 FISHING REPORT – will be taking this time off due to a death in our family.  It is hard to share this, but I know so many of our customers as friends I felt it approprite to share what is going on.  We have experienced a tragedy in our family.   My wife Kathy and I and oldest son Ben lost a dear son and brother this week.  Our youngest son Joshua passed this week and we are in the process of beginning life without out him.  Thank you so much for your thoughts and prayers and the unbelievable support from our family, our church, our friends, everybody.  I cannot thank everyone enough.  We have a lot to deal with in the coming week and I'll hopefully back to working sometime the week of 11/13.   I thank God for each and every one of you
11-16-2017 FISHING REPORT– Guided Trip, wade trip, Larry Tomar, Ben Keller, Greensboro, NC, NC Mtns, good day , cool /chilly weather, we had great fishing but it took an hour or two for things to get going.  Ben and Larry put probaby 80 or more in the net , we nymphed with double nymph rigs and Ben got in an hour or so of good dry fly fishing at the end of the day.  One brown trout and all the rest were rainbows.  Got in really late so this report is abbreviated but suffice it to say our favorite season delivered pretty good today.  Here are a few pics….
11-17-2017 FISHING REPORT – Guided Trip, wade trip, Seth Thompson, Mebane, NC, NC Mtns
11-18-2017 FISHING REPORT – Guide Trip, wade trip, Miles Barefoot, Blowing Rock, NC, NC Mtns
TRIP OPENINGS….Want to Go Fly Fishing……?  Check out our Guide Service openings and availability beyond these  2017 dates….we always have listed at least 6 months of available dates so you can always know what is available…..  check our Guided Trips Page here  . . 
RealTime Fly Fishing Reports…. Follow us on the water in our pursuits…..Not old info, usually delivered from standing right in the river.  You can subscribe to our page or RSS Feed here or sign up to receive the reports right to your inbox
.